Compilation of clips of Lehua Night Market in New Taipei City, Taiwan
from
Images By Kenny
on
Vimeo
.
I've been living in the Yonghe District, New Taipei City for about eight of my nine years in Taiwan. One of the best places to go around Yonghe is the Lehua Night Market.
The 30-year-old night market has a great mix of everything from food to clothes. The awesome and interesting street food at vendors here includes fried chicken steaks, oyster omelets, tempura, mochi, almond tofu, almond milk, shaved ice, and rice cakes. A relatively new addition here is the beef cubes cooked with a blowtorch, which is apparently a Taiwanese traditional food (well, as traditional as anything involving a blowtorch can be). As with most night markets, the vendors prepare the food right in front of you.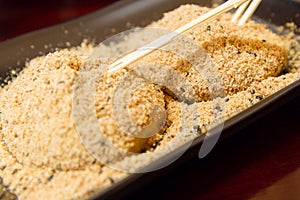 Taiwanese Hakka mochi dessert
© Photographer:
Imagesbykenny
| Agency:
Dreamstime.com
If you not into street food, there are also many restaurants, including good pasta and steak restaurants. On a side note, a night market is not a place you'd usually go to eat steak (Although the one in the night market is one of the best in Yonghe), but if you do want to, I suggest going to the actual steak restaurant instead of eating steak at the NT$100-steak night market stands; unless you really like inedible sinew.
Besides the snacks and street food, there are also many clothes shops, small arcades, and grocery stores, as well as seemingly out of place convenience stores and retail chain stores.
The market is pretty packed over weekends, but not quite as much as Shida, Raohe, or Shilin. Most of the stores and stalls are open from 4 p.m. to 1 a.m. There is a Party World KTV right next to it if you want to stay out after your visit.
The night market is easy to get to.
By MRT: Go to Dingxi MRT Station, go out exit 1, turn left and walk down Yonghe Road, and you will see the Lehua night market entrance. It's about a five minute walk.
By bus: Buses 5, 57, 214, 227, 250, and 304 all stop at the Party World KTV next to the night market. Buses 706, 297, 249, 262, 624, and 670 all stop at bus stops close by.
Address: YǒngPíng Rd, Yonghe District, New Taipei City, Taiwan 234