While my mother was visiting in 2012, I was looking for some tourist sights to show her. I decided to go to Pingxi since the Lantern festival was taking place at that time. Pingxi is famous for its paper lanterns but, although I had been there before, I had never actually seen a paper lantern, let alone flown one.
Pingxi is usually a laid-back town known for it slow lifestyle, but it is an extremely popular destination over Lantern festival. I opted to take a bus as trains turn into sardine cans at these times. The bus took about four hours to get there from
Taipei
due to the heavy traffic (I don't recall exactly, but I think it took about an hour to ride there during off-peak times.)

Old mine at Pingxi Train Station
There's a lot to see and explore around Pingxi. The aged narrow Pingxi Old Street around the train station is full of stores and vendors as well as well-preserved, historic buildings. The train only stops at the station every half an hour, so people can walk around on the train tracks and even release sky lanterns there.
Releasing sky lanterns is a traditional ceremony in
Taiwan
. Legend has it that the sky lantern (also known as the Kongming Lantern) was invented by Zhuge Liang (Kongming), during the Three Kingdoms era, to use as signals in warfare. Long ago, the villages in Pingxi were often attacked by bandits. Sky lanterns were used to signal that was safe for residents who took refuge elsewhere to return home. Thus, sky lanterns are also known as "safety lanterns" or "prayer lanterns." Sky lanterns have lived on to become one of Pingxi's major attractions.
Prayers and wishes written on bamboo
Pingxi holds the Pingxi Sky Lantern Festival every year during Lantern Festival—which falls on the 15th day after the Lunar New Year. It is a large-scale sky lantern event where the masses of people attending write their wishes or prayers on sky lanterns and release them into the sky. Wealth, health, and happiness are on top of most people's wishlist.
We bought a own red paper lantern for about NT$100. It was much bigger than I had expected (the standard size is 130x60 cm). We were given a set of markers to write our wishes on the lantern. We wrote our wishes on the lantern, lit it up, and released it.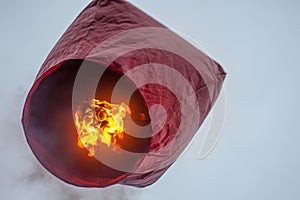 © Photographer: Imagesbykenny | Agency: Dreamstime.com

The annual Pingxi Sky Lantern Festival shows how well the New Taipei City Government has marketed local culture. They have made a big effort to promote it and turn it into an international event. It has drawn more than a hundred thousand tourists in the last few years.
Pingxi residents say that the profit they make during the Lantern Festival is worth a year's earnings. This is an excellent mix of culture and tourism.

Prayers and wishes written on bamboo
To see more of my photos of tourist spots in Taiwan, please visit
http://imagesbykenny.com/
To learn more about interesting places and sights to visit in Taiwan, check out my list of
Places to see in Taiwan