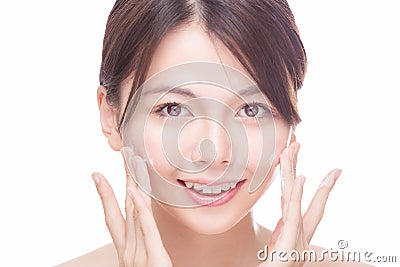 Taiwanese woman applying cream to face, beauty shot
© Photographer: Kenneth Paul | Agency: Dreamstime.com
I was organizing a beauty shoot a few weeks ago. The ideas about beauty in Asia are different to those in the West. In brief (I will do a more in-depth post about this soon), Chinese woman prefer whiter looking skin, bigger eyes, and less accentuated facial features (So less contouring and highlighting to get a flatter appearance).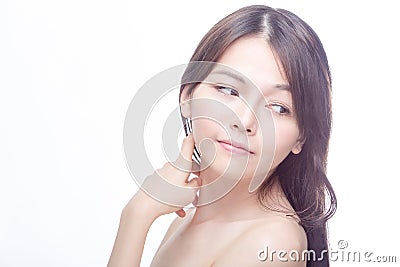 Chinese woman beauty shoot
© Photographer: Kenneth Paul | Agency: Dreamstime.com
The tendency towards whiter paler skin comes from stereotypes about social status; darker skinned people are seen as sun-baked laborers who work in the fields. This is quite different from the Western perception of paler people being unhealthy or ill. To exaggerate this look, beauty photos in Taiwan are often slightly overexposed to wash out more detail. In addition the model would wear foundation that is perhaps a shade or two lighter than her actual skin tone to get a brighter complexion.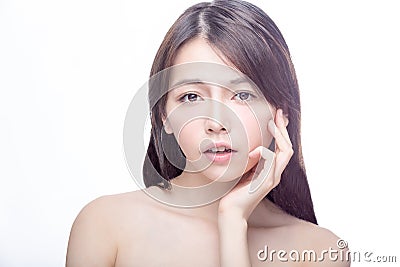 Taiwanese woman beauty
© Photographer: Kenneth Paul | Agency: Dreamstime.com
Overall, the standard of beauty in Western countries generally veers toward a
mature, seductive, sexy, and sultry look while in Asia, especially Taiwan, China, and Japan, the standard of beauty reflects youth, innocence, purity, and cuteness. With this in mind, I cast a model who embodied all of these traits perfectly.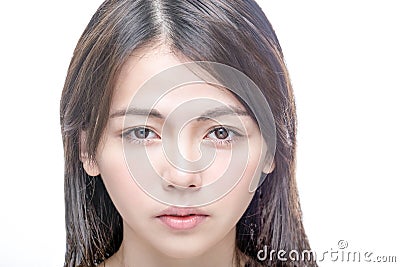 Chinese woman modeling for beauty shoot
© Photographer: Kenneth Paul | Agency: Dreamstime.com
All the photos were shot on a Canon 6D with a Canon 70-200 F2.8 L lens. The lighting was a standard beauty lighting clamshell setup for most of the shots. The key light was a monolight in an 80 cm brolly box on top with a reflector at the bottom. Two V-flats were used in front and two monolights used on the white background. The key light was placed relatively low for less contrasty, flatter look. The two white V-flats in front were also added to reduce shadows. Two black V-flats were put on the sides to add definition to the outline of the face.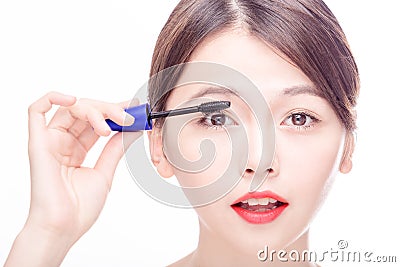 Chinese woman applying mascara for beauty shoot
© Photographer: Kenneth Paul | Agency: Dreamstime.com
For more photos from this series and others, see this set:
shutterstock asian beauty skincare chinese taiwanese