One of my favorite temples around Taipei is the Yuan-Dao Guan-Yin Temple (

緣道觀音廟

). It is situated on a mountainous part of the Danshui Township. It has a wonderful atmosphere, with the simplicity of its design mixing perfectly with the tranquil surroundings.

The frugal, but elegant design of the temple is often mistaken for a Japanese Zen temple, which are influenced by Chinese architectural styles during that era.
The Yuan-Dao Guan-Yin Temple is a four-story temple built in the Tang style. The temple displays a sense of ancient simplicity in the valley with its predominantly wooden features. Around the temple is a wonderfully landscaped outdoor relaxation area with a sleeping Buddha statue, 33 Guan-Yin stone statues, the monastery, stone sidewalk, and the Japanese garden, that bring comfort and harmony to one's body and mind.
The first things you see when visiting the Yuan-Dao Guan-Yin Temple are the grand wall cascade with waterfalls and the ancient temple gate, called " The Door to the Great Way."
On the first Floor Worship Hall,

Da Zi Zai Wan Fo is worshiped, along with the four chief Bodhisattvas: Kuan-Yin, Wen-Shu, Dee-Tsang, and Pu-Hsien, and two great guardian Bodhisattvas: Wei-To and Chieh-Lan. On the right side of the hall, Yuan-Dao Bodhisattva, the second Patriarch of Forshang Buddhism is worshiped.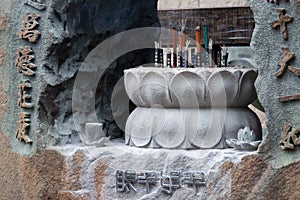 © Photographer:
Imagesbykenny
| Agency:
Dreamstime.com
The Yuan-Dao Guan-Yin Temple has its own unique incense for worshiping Buddha, love, health, peace, help, parent, children, honor, wealthy and career. Visitors may offer the appropriate incense to the Dragon-Riding Guan-Yin, The Thousand-Hand Thousand-Eye Guan-Yin Bodhisattva, Wen-Shu Bodhisattva, Dee-Tsang Bodhisattva, or Pu-Hsien Bodhisattva.
The "Potential-inspiring Pyramid" is made in the perfect ratio of a Pyramid. The totems of the universe drawn in four different colors on the pyramid are able to instantly uplift the four positive energies: Wisdom, Fortune, Health and Love.
The second floor displays all the holy relics—cremated beings where the "Forshang Deliverance Rice" was spread before the cremation of these people and animals, showing that the deceased beings have already been delivered to the Pure Land.
The Yuan-Dao Guan-Yin Temple provides an excellent interpretation service for visitors.
Address: No. 3, Antznei, Danshui Township, Taipei, Taiwan 251, ROC
Phone: +886 2 2626-9242 Fax: +886 2 2626-9233
Visiting hours: Mon–Fri, 9

:

30 a.m.–7

p.m.

Sat & Sun 9:30 a.m.–9:30 p.m.
Getting there: Take the Bodhi Zeal Shuttle bus across the road from Hongshulin MRT Station
To see more of my photos of Taiwan, please visit
http://imagesbykenny.com/
To learn more about interesting places and sights to visit in Taiwan, check out my list of
Places to see in Taiwan