One of my favorite temples in Taipei is Longshan Temple in the Wenhua district of Taipei. My friend, Richard, just bought a camera and was looking for some places to shoot. I suggested Longshan as being a great temple for some temple shots. I realized that I had not been here since I took my mother here on her visit in 2008.
Mengjia
Longshan Temple (Chinese:
艋舺龍山寺
) was built in Taipei in 1738 by settlers from Fujian Province, China. It was used as a place of worship and a gathering place for the Chinese settlers.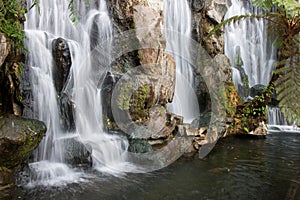 © Photographer:
Imagesbykenny
| Agency:
Dreamstime.com
Longshan
Temple
primary deity is Guanshiyin Buddha, but Longshan is a multidenominational temple and the temple enshrines 165 other deities. Along the back wall are several partitions containing different gods: on the right is the patron of scholarly pursuits, on the left is the god of military pursuits and business people, and in the center is the goddess Matsu who provides for the safe return of travellers by sea or land.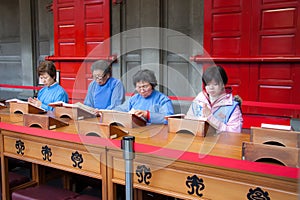 © Photographer:
Imagesbykenny
| Agency:
Dreamstime.com
The design of Longshan Temple has three sections: the front hall, the rear hall and the middle hall. From the outside you can see the two dragons protecting the middle hall. The courtyard has beautiful waterfall to the right. The stones lining the courtyard of the temple were originally ballast on the ships that carried Fujian immigrants across the Taiwan Strait. Inside the main building, there are numerous bronze incense burners and carved-stone columns. Crowds of people gather there at 6 a.m., 8 a.m., and 5 p.m. to worship—this is a good time to visit to experience the hypnotic chanting.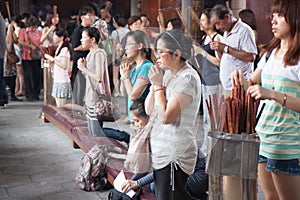 © Photographer:
Imagesbykenny
| Agency:
Dreamstime.com
There are a number of vendors outside the front gate of the temple including old monks selling wooden beads, and old women selling flowers. There is an underground market across the road from the temple as well as a variety of other shopping areas in the immediate vicinity and surrounding streets for shopping for religious items, Chinese medicine, and assorted trinkets.
While Longshan Temple is not the biggest temple in the city, it has a unique atmosphere and beauty about it that keeps people coming back.