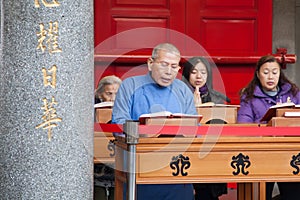 © Photographer: Imagesbykenny | Agency: Dreamstime.com
Xingtian
Temple (Chinese:
行天宮
) is is relatively recent in origin but a popular temple in Taipei, Taiwan. It was constructed in 1967. It is devoted to Guan Yu, a famous deified general who lived during the Three Kingdoms period.

A man who valued loyalty and righteousness above all things, Guan Yu is worshipped as the God of War; since he was adept at managing finances, he is also worshipped as the patron saint of businessmen.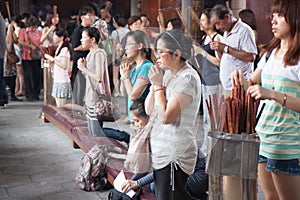 © Photographer: Imagesbykenny | Agency: Dreamstime.com
Xingtian temple (also spelled Hsingtien Temple) is situated at 109 Minchuan E. Rd., Sec. 2 on a street corner near the center of the city. It is right by the Xingtian Temple MRT Station
It has a simple dignifies appearance with

sculptures of dragons featuring significantly in its design. It covers over 7,000 square meters.
It is almost always busy with hoards of people praying for help and seeking divine guidance by consulting oracle blocks. Looking for this kind of guidance is so popular that even the pedestrian underpass outside the temple is filled with fortune tellers and vendors who take commercial advantage of the temple's popularity.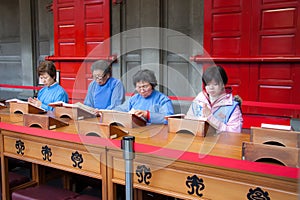 © Photographer: Imagesbykenny | Agency: Dreamstime.com
To see more of my photos of Taiwan's temples, please visit
http://imagesbykenny.com/
To learn more about interesting places and sights to visit in Taiwan, check out my list of
Places to see in Taiwan