Last weekend, Mei and I decided to do a Japanese-themed shoot. There are many types of kimonos, and they each have their own protocol for when they are appropriate to wear.

The colour, pattern, material, and make are all considerations when selecting the appropriate kimono for the occasion. She has a few kinds of kimonos and chose a yukata for this shoot at a Japanese house and garden in Danshui.

Oriental Woman in Kimono in Japanese Garden
© Photographer:
Imagesbykenny
| Agency:
Dreamstime.com
A thousand years ago, Japanese nobility wore bathing gowns called yukatabira. Over time these evolved into the yukata (literally "bathing clothes" in Japanese) in its modern form, a light, unlined kimono worn for casual summer events and relaxing at home. The patterns are dyed on the cloth using the same process as for the komon. The yukata

(

浴衣

)

should never be worn in formal situations. A standard yukata outfit consists of a juban, yukata, obi sash, bare feet or geta sandals, a foldable hand fan, and a kinchaku bag.
Asian Woman in Kimono Holding Fan by Japanese Wood Frame Windows
© Photographer:
Imagesbykenny
| Agency:
Dreamstime.com
In general, men wear dark solid colors, young people wear bright, vivid colors with bold patterns, older people wear dark, matured colors and dull patterns, and children wear multicolored prints. Since Mei is a beautiful young woman, we went with a bright floral print.

Oriental Woman in Kimono in front of Japanese House
© Photographer:
Imagesbykenny
| Agency:
Dreamstime.com
Putting a yukata on is quite a process and Mei went to a studio in Banciao that specializes in hiring out Japanese garments and helping people dress in them. The way it is put on is the left side of the yukata is wrapped over the right side and fastened with an obi sash. The excess of the obi is tied in a bow at the back.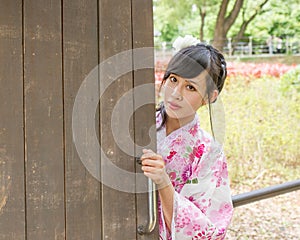 Woman in kimono in Japanese Garden
© Photographer:
Imagesbykenny
| Agency:
Dreamstime.com
Stock photos of Japanese people and culture on Shutterstock